Bring KI to your Organization
Bring KI to your Organization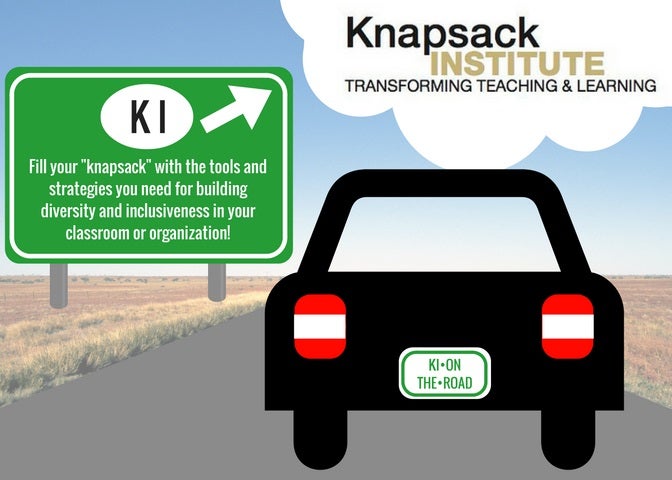 The Knapsack Institute on the Road brings the KI, or our more limited workshops, to you. We work with Universities, K-12 schools, organizations and businesses.
Campus Knapsack Provisions
Because the workshop is flexible, we can tailor it to your specific needs:
On your campus, we will provide participants with:
An intersectional conceptual framework for understanding concepts of oppression and privilege;
A wide range of innovative teaching strategies that we have found successful, including:
Building an inclusive classroom,
Setting the stage on the first day of class, 
Managing emotions and reactions in the classroom, 
Dealing with resistance to change, 
Empowering students toward positive growth in the classroom and beyond,
How to find support and resources for doing this challenging and often difficult work.
K-12 and Non-Profit Organizations
We have designed special Knapsack Institutes geared specifically toward K-12 educators and toward non-profit organizations. Each institute can be custom tailored to better suit each organization's needs.
Stand-Alone Workshops
We also offer the following stand-alone workshops:
Social Identities, Inequalities, and Building Inclusiveness
Transforming Ourselves to Become Culturally Inclusive Educators
Transforming the Curriculum
Minimizing Implicit Bias and Stereotype Threat
Minimizing Microaggressions (Subtle Forms of Exclusion) to Become an Agent of Change
Culturally Inclusive Leadership
Building an Inclusive Environment
Reframing Emotions
Dealing with Resistance to Equity
Using Mindfulness Practices to Become Culturally Inclusive
Advancing Social & Environmental Justice through Contemplative Practice
Our workshops are flexible; we tailor them to meet your needs.
To bring The Knapsack Institute or a workshop to your institution or organization, 
please email:
Abby Ferber,  Director of the Matrix Center, Co-Director of The Knapsack Institute. 
aferber@uccs.edu or call (719)255-4764.